MIGHTY MÜLLER CLINCHES FINALE WIN
Nico Müller (SUI, Audi) secured second place in the drivers' standings with his third win of the 2019 season – achieved in particularly difficult conditions as the heavens opened at Hockenheim. He was followed home by fellow Audi drivers Mike Rockenfeller (GER) and Rene Rast (GER).
In the opening minutes of the year's final race, heavy rain caused chaos –Rast made a superb start to vault from eighth to second; SUPER GT driver Nick Cassidy (NZL) was pitched into the wall on the opening lap; and Dani Juncadella's (ESP) Aston Martin rolled to a smoky stop, prompting a red flag.
At the front, pole-sitter Müller got away cleanly, leading from Rockenfeller and the fast-starting Rast. The Swiss driver was able to maintain the pressure on the newly crowned champion, vaulting ahead after the pit-stops. A late-stopping Jamie Green (GBR) led much of the race before pitting on the final lap, handing first place back  to the supreme Müller, who never put a foot wrong all afternoon.
Fastest-ever DTM concludes with thrilling final
The first season of DTM's new turbo era ended with a clean sweep of the podium for Audi. It was an achievement which, in many ways, reflected the increased dominance of the Ingolstadt marque, which secured this year's drivers', manufacturers' and teams' titles as well as a dozen of the 18 race wins.
Timo Glock (GER) was the best-placed BMW driver, concluding a rather fruitless season with fourth place a personal highlight. For Aston Martin, the season also ended with another points-scoring result: Jake Dennis (GBR) earned his fifth top-10 classification from 18 races. Its drivers scored points on 19 occasions.
SUPER GT and DTM link-up makes promising start
At Hockenheim, cars from the Japanese SUPER GT series and the DTM raced together for the very first time. In Saturday's dry race, the guest-cars were able to impress, with reigning SUPER GT champion Jenson Button (GBR, Honda) earning a highly creditable ninth place. In the process, Button and his Honda team showed an impressive ability to adapt and learn, gaining an understanding of Hankook's control rubber, standing starts, tyre-change-only pit stops and the rough and tumble of DTM racing. Next month, the two series meet again – at the Fuji Dream Race, where 15 SUPER GT cars will race against seven DTM cars on 23 and 24 November.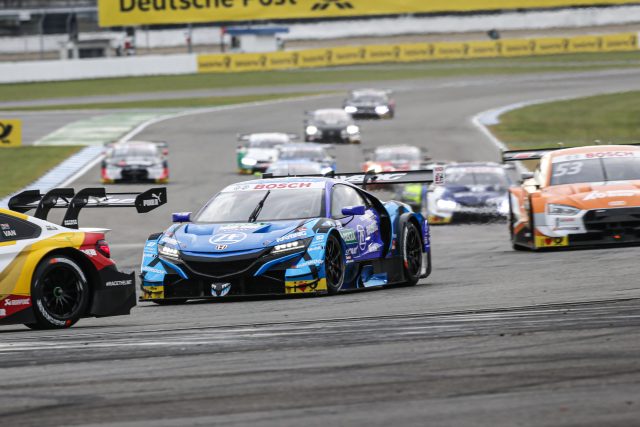 Quotes
"Congratulations to René Rast and Audi. They dominated the DTM's first season using the new four-cylinder turbo engines, particularly during the second half of the season. I tip my hat to René, who really is an extraordinary driver. However, I also congratulate R-Motorsport and BMW. R-Motorsport have developed the Aston Martin in record time and have been running four cars since the start of the season. Over the course of the year, they have shown continuous progress and have scored points regularly. BMW showed their fighting spirit: Marco Wittmann often stood out and was rewarded with third place in the drivers' standings. The DTM season ended with a highlight at Hockenheim: the participation of the three cars from the SUPER-GT series was historic. The support of DTM's fans for Jenson Button and his four fellow drivers from Japan was huge. Unfortunately, the rainy weather really made it difficult for them. Now, however, we're looking forward to the joint races at Fuji on 23 and 24 November."
Gerhard Berger, ITR Chairman
"That was the way I wanted to end this season. My team and Audi have done a great job in making the car competitive for wet conditions overnight. Today, we simply had the car we needed for these conditions. On top of that, we did everything right and secured the runner-up spot. For next season, I'm highly motivated. Of course, winning the title is always the ultimate goal. That's exactly what we'll be working towards."
Nico Müller, winner
"I made a good start – but, all of a sudden, René was alongside me in the Parabolika. After the red-flag, we decided to fit new tyres for the first stint, and that worked out well. We probably didn't have the best pit-stop, but still a big compliment to the guys, because this time, on the right-front, we had somebody who had never done this before. He had to jump in as somebody else had fallen ill. Unfortunately, I wasn't able to follow Nico with my second set of tyres. Nevertheless: a great weekend for me, for our team, and for Audi. For next season, we'll be working harder to be in contention for the championship."
Mike Rockenfeller, second place 
"I was a bit surprised by my super start. In the opening corners, I overtook some cars and then I also overtook Mike in the Parabolika. However, I had to hope that he could see, which was pretty difficult in all the spray. After the restart and the pit-stop, we were a bit too conservative with the tyre pressures. When it rained less, it worked better, but we lost out at the end when the rain got heavier. Overall, we weren't in the right window with the tyre pressures. After this great season, a third title will be our goal for next year, because winning three titles is something only a few drivers have achieved before."
René Rast, third place
"Today was a hard day for us, but we have learned a lot. Certainly, the Japanese teams have a lot of insight now for the race in Fuji next month. And the DTM drivers have to prepare for different conditions there. All in all, I really enjoyed my weekend in the DTM. The atmosphere was great, the support from the fans: there are great brands competing against each other, and the racing is outstanding. It was great to be a part of it."
Jenson Button, 16th place