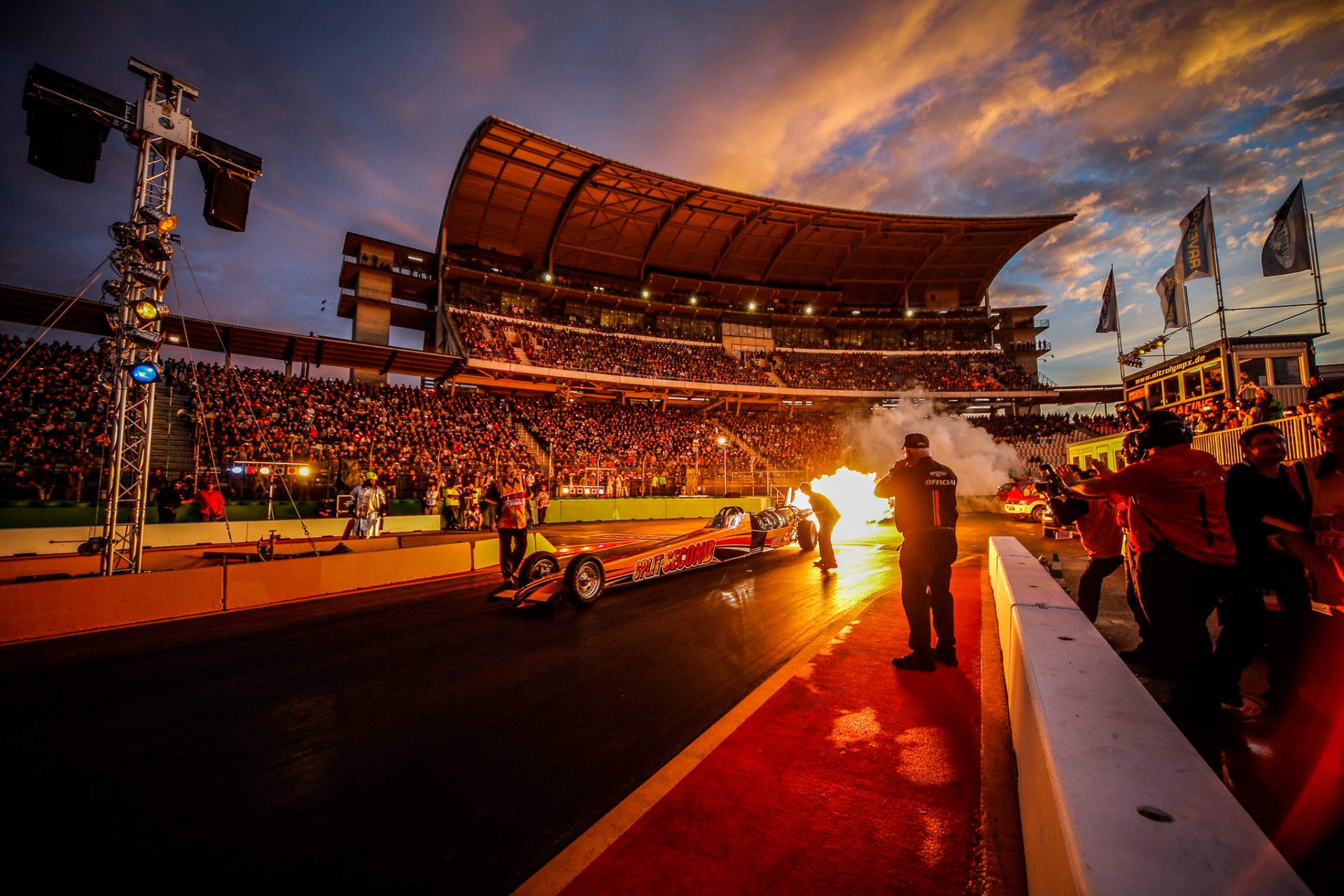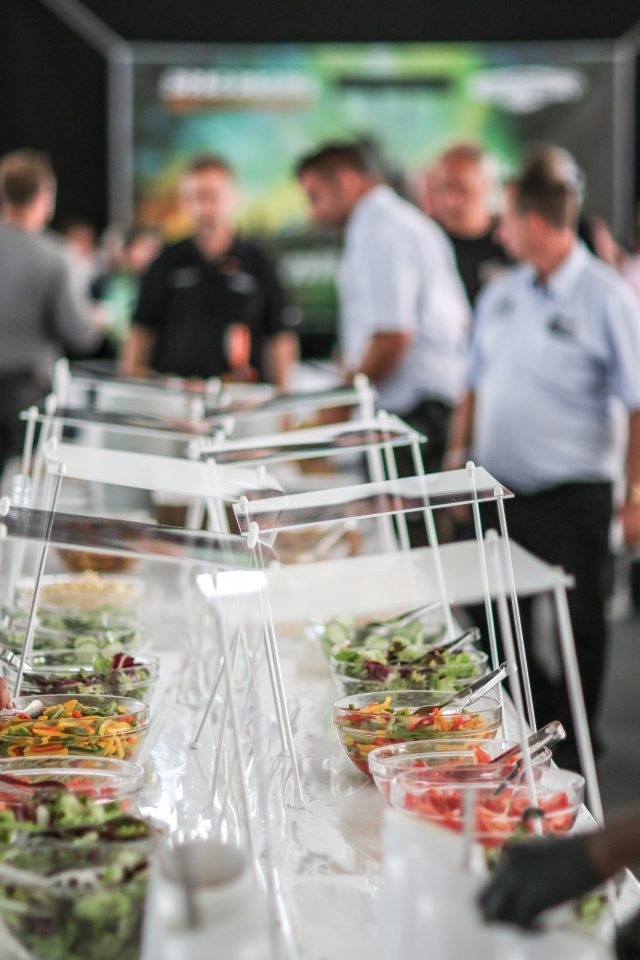 THE NITRO-LOUNGES – 100% EXCLUSIVE
*subject to change
When the NitrOlympX cars of the Top Fuelers, the Funny Cars, the Super Street Bikes or the Nostalgia Dragster line up in front of the so-called Christmastree, the start light, when the adrenalin shoots into the bloodstream and the methanol into the engines, when rubber burns and deafening engines can be heard far beyond the Motodrom, then you are right in the middle of the ultimate fight "man against man, machine against machine", then you are there, at "The fastest show on earth"…
The race goes over exactly 402.33 meters – the classic quarter mile. The NitrOlympX should not be missed by dragster friends, because only on the Hockenheimring fans have the opportunity to experience the "crème de la crème" of European and international dragracing in an uncompromising fight for the championship points…
Our program includes exclusive offers that satisfy the highest demands. You are sure to find the right package for you or your business friends.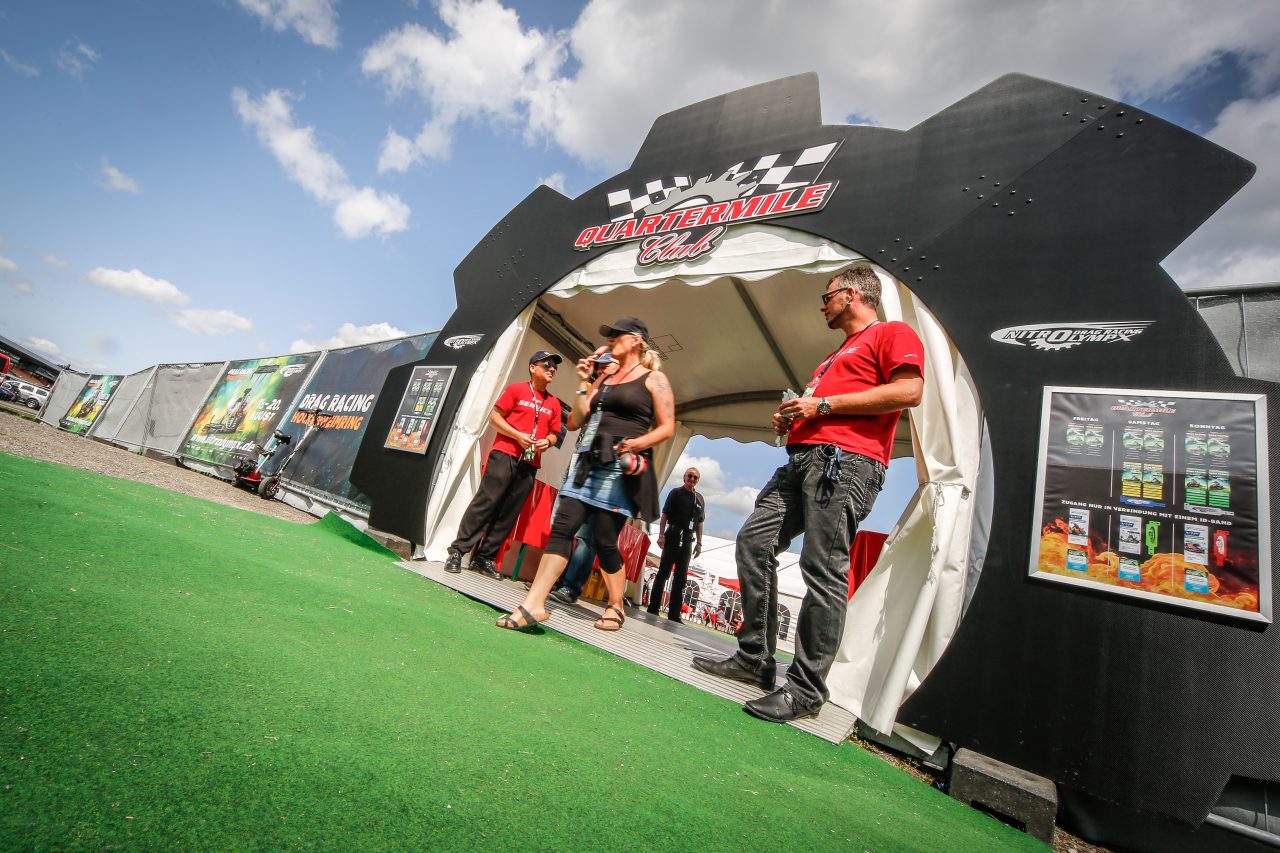 QUARTERMILE CLUB
The stand for our VIP guests is situated directly at the starting line, offering the best view of the drag strip. The reserved bucket seats offer you a close-up of the racing action, where you can well and truly feel the power of the dragster engines.
The "Quartermile Club" package includes
A reserved seat in the VIP grandstand with the best view of the drag strip and access to the paddock
Free choice of seats in the Quartermile Club with self-service
Lunch buffet on Saturday and Sunday from 12 PM – 2 PM, selection of soft drinks and draught beer included
Evening buffet on Saturday including a selection of soft drinks and draught beer at the Night Show from 5.30 PM – 7 PM
Programme and event souvenir
Opening times of the Quartermile Club
Friday from 10 AM to 5 PM (drinks until 4 PM)
Saturday from 9 AM to 9:30 PM (drinks until 9 PM)
Sunday from 9 AM to 5 PM (drinks until 4 PM)
Prices
Weekend (Fr., Sa., Su.): 299,00 €
Saturday: 240,00 €
Sunday: 180,00 €
Please note that the VIP tickets for the weekend are valid from Friday until Sunday. On Friday there is no catering service in the VIP Lounge – there will be a large selection of drinks for you outside in front of the Quartermile Club. Food offerings are restricted to Saturday and Sunday.
You can drive easily into the Motodrom with your car or motorcycle and park right in front of the VIP area. Due to the limited number of parking spaces inside, 1 car parking ticket is usually sent for 1-3 persons when booking a group of VIP tickets (or 2 parking tickets for 4 people and up, 3 parking tickets for 7 people and up, etc.).
*All prices per person, including statutory VAT.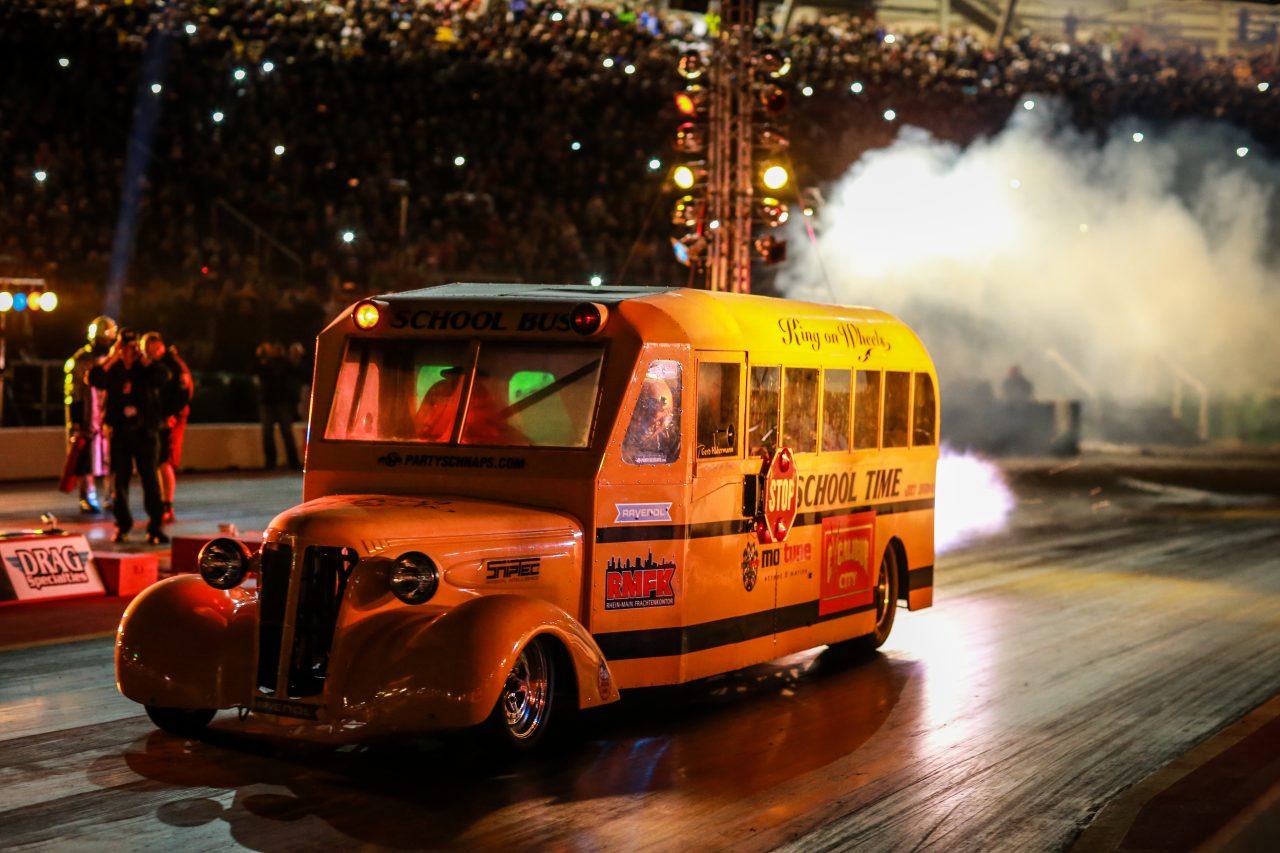 TOWER LOUNGE
The VIP seats are in the impressive South Grandstand, measuring around 20 metres high. The seats offer you a unique view of the classic quarter mile, especially of the starting and finishing lines of the dragster track and the entire Motodrom.
The "Tower Lounge" package contains
Individual ticket for the "Tower seats" VIP spot on the south upper stand (Saturday & Sunday)
For a short stop in the VIP stand, Tower Lounge guests have a free choice of seats from Friday to Sunday
Access to paddock (Friday-Sunday)
Free drinks in the beer garden of the "Quartermile Club" (Friday-Sunday)
Reserved seat in the Tower Lounge on Saturday & Sunday
Exquisite catering on Saturday with afternoon snack – exclusive and hearty, coffee and more, American diner buffet including midnight surprise and large selection of drinks. On Sunday with a substantial dragster-speed brunch, coffee and cake, large selection of drinks
Reserved VIP parking spaces in south upper tier – Tower seats in the direct vicinity.
Parking tickets: 4 tickets = 1 parking ticket
VIP care, programme, VIP gift and earplugs
Prices
Saturday & Sunday: 410,00 €
Saturday: 325,00 €
Sunday: 225,00 €
Opening times Tower-Lounge
Saturday: 9.00 – 23.00 Uhr
Sunday: von 9.00 – 18.00 Uhr
*All prices per person, including statutory VAT.