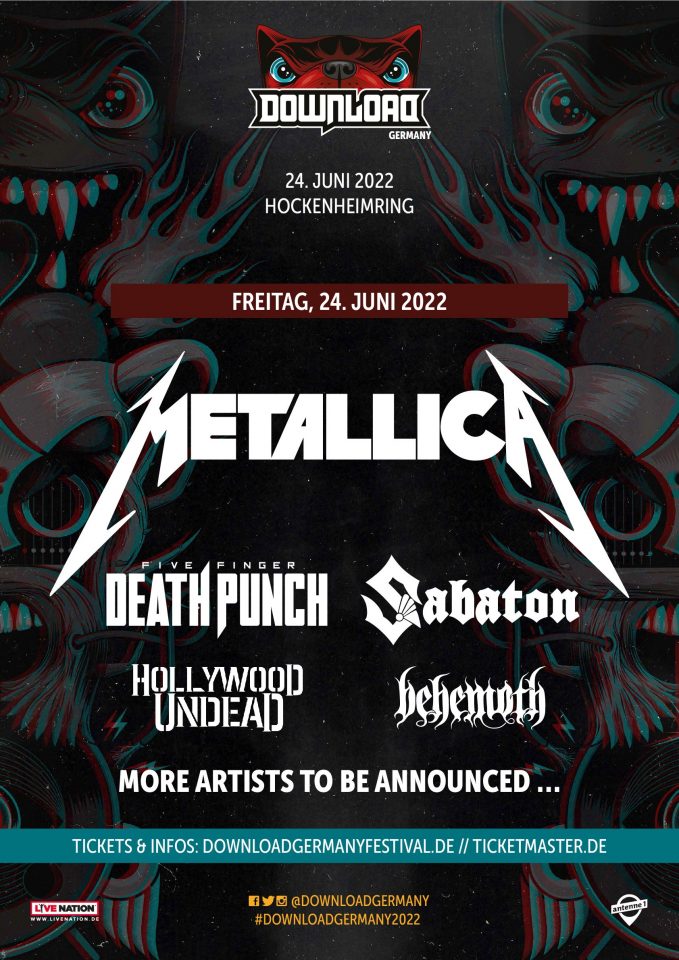 DOWNLOAD GERMANY PREMIERE WITH METALLICA
Biggest British rock festival at the Hockenheimring for the first time on 24 June
Line-up with Five Finger Death Punch, Sabaton, Hollywood Undead & Behemoth already confirmed
Download has been one of the most popular British festival events for years, presenting the strongest and most popular rock bands and metal icons. Now Download Germany will premiere with Metallica on 24 June 2022 at the Hockenheimring. And the message for all fans is clear: the best and most impressive hard'n'heavy music experience ever!
Download Germany offers the authentic metal genre a new home in the legendary Motodrom at the Hockenheimring. Up to 10 top acts will perform on a huge double stage at the end of June.
For the start, organiser Live Nation managed to engage the ultimate of all rock bands as headliners: METALLICA – who will play their only German concert at Download Germany next year as part of the release of their newly-remastered Black Album.
---
Together with other absolute rock heavyweights like Five Finger Death Punch and Sabaton (both festival-exclusive in Germany in 2022!) as well as more than 70,000 expected visitors, Download Germany wants to ensure a huge and lasting echo.
In addition to festival tickets for the indoor area, admission tickets for the South Stand are available for Download Germany. In the first price category, tickets for the inside area cost 139 EUR including parking and advance booking fee. Festival tickets for the south stand are available from 159 EUR including parking and advance booking fee. VIP tickets will also be available shortly.
All tickets are available as mobile tickets or alternatively for printing as TicketFast.
Further detailed information about Download Germany, ticketing as well as the general terms and conditions can be found at www.downloadgermanyfestival.de.
Presented by Live Nation